Fulfillment knowledge
The customer's business is our business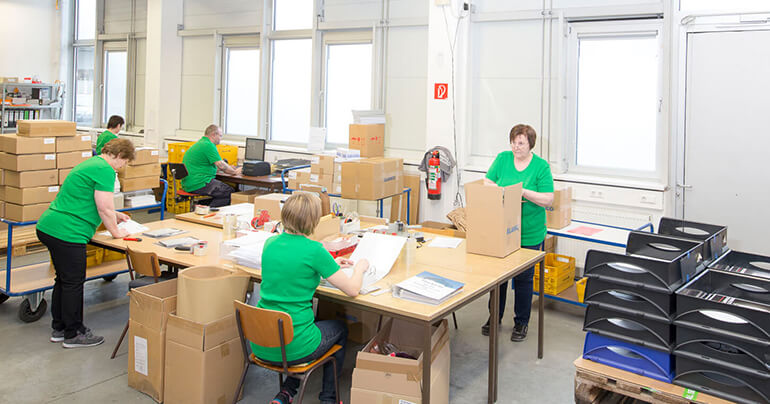 End of October, beginning of November 2019. As every year, a customer has finished the catalog for the next year and wants to distribute it to his customers. The timing is coordinated with everyone, because it is important, for example, that the sales force is supplied with the catalogs in advance so that it is prepared for inquiries from customers, in this case wholesalers. It is also important to ensure that wholesalers with their own price list are supplied first, followed by retailers with a different price list. The shipment is national and EU-wide. For obvious reasons, LANG Fulfillment Group is the last in the long chain of companies involved. The production date is set, as is the binding shipping date for the catalogs. The shipping service provider has also been informed and is to deliver to us according to schedule, so-called "suitcases", i.e. loading bridges, so that we can fill them once shipping begins, these are replaced daily by new suitcases. Buffer times for any minor delays are integrated into the overall project planning, so that even in the event of minor disruptions, the overall schedule can be maintained.
Project starts according to schedule. The first delays occur shortly thereafter. Author corrections. The schedule is set. Print release is delayed, due to problems. The buffer is already exhausted. The schedule still stands. Catalog printing is delayed by one week, shipping date still stands. Much too late the catalog is delivered to us. Unfortunately, the shipping service provider delivers the case much too late. 95 pallets are standing in our aisles. Now it is getting tight, in the truest sense of the word. The next day, the eagerly awaited suitcase arrives. We load it with the pallets from the previous day. Unfortunately it is full much too fast...
Contact with the shipping company. Please bring two suitcases. Statement: "We cannot react on such short notice". All right. Then just one suitcase for today. Final date is set. Pick-up time: 3:30 p.m. 4:00 p.m., official time for our warehouses to close for the day. Call from the warehouse. The shipping company hasn't arrived yet - what do we do? All clear. One person would like to hold out until the shipping service provider brings the eagerly awaited suitcase. After all, we have a duty to our customer. 5:30 p.m. The shipping company brings and collects the suitcase. We swallow the overtime, as this is a matter of course for us. The customer's business is our business. We take care!